in Vännfors, Västerbotten
Wallhalla
Bed & Breakfast
Welcome to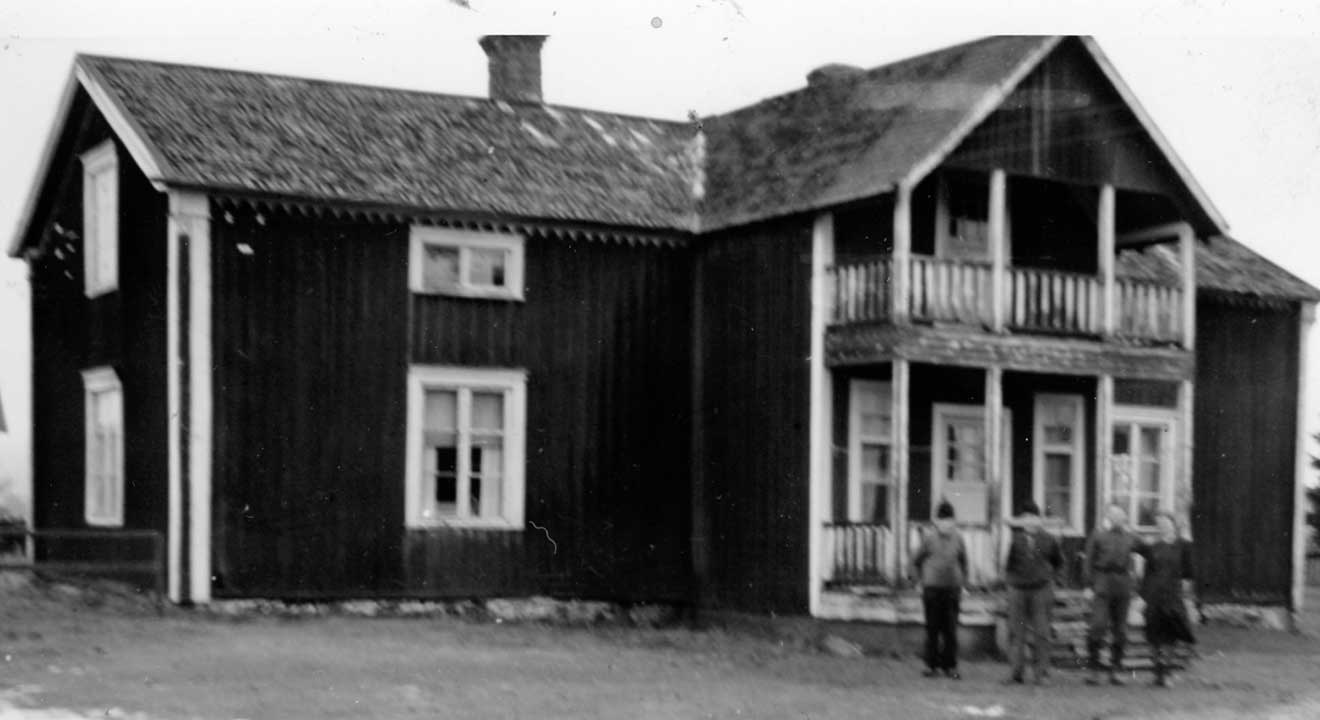 Wallhalla is Ing-Marie's grandparents' farmstead and dates from the early 1800s.
The farmstead, which was renovated during 2010-2012, preserves as much of "the old" as possible, but also incorporates modern amenities.
Wallhalla ligger Inibyn på östra sidan av orörda Vindelälven. "Wallhalla" kombinerar vårt efternamn med ägornas gamla beteckning "Halla".
From Umeå, take the E12 westbound towards Vännäs. After about 24 km, turn right just before the bridge over the Vindel river, and after 7 km, turn left at the sign for "Inibyn". And then you are here!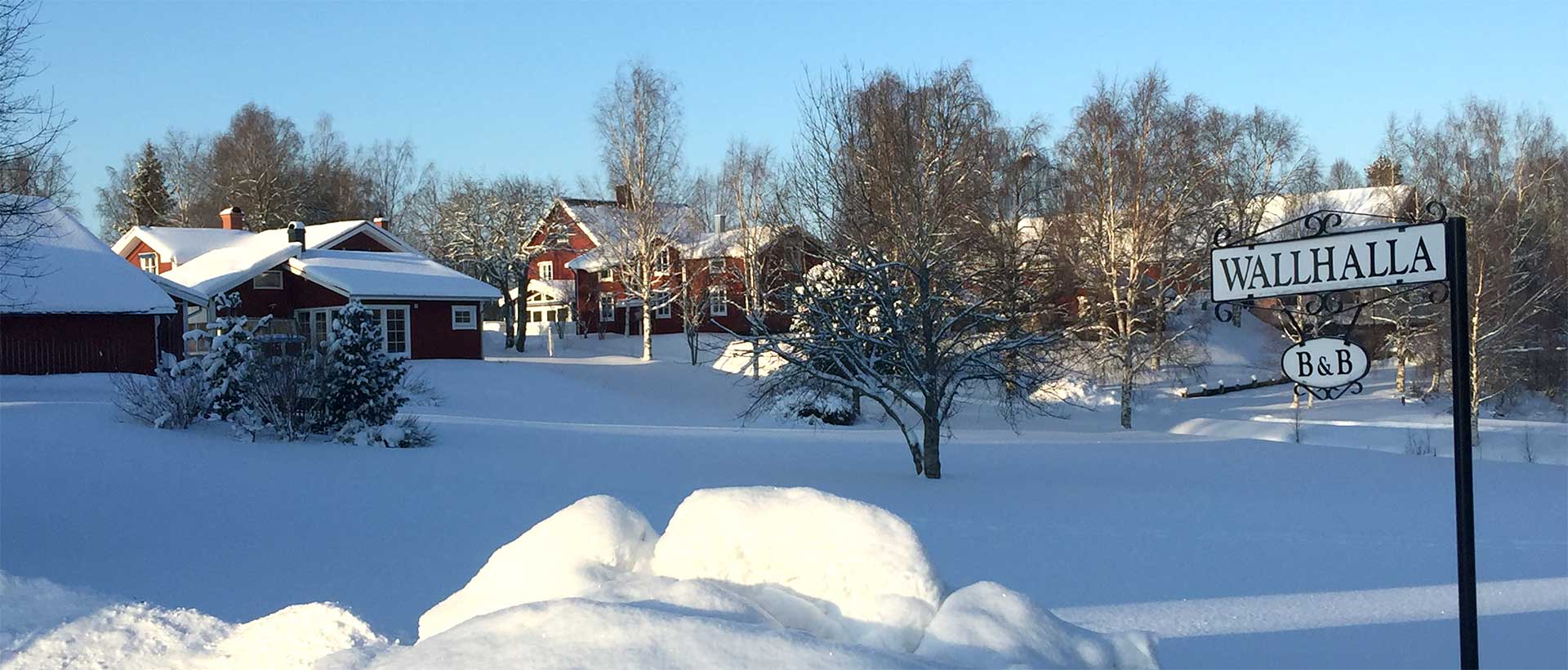 And winter brings cross-country skiing tracks which you can access directly from our premises.
Take a seat at the kitchen table, dating from 1845, and treat yourself to our breakfast with homemade breads and ingredients grown in our own garden or picked in the forest.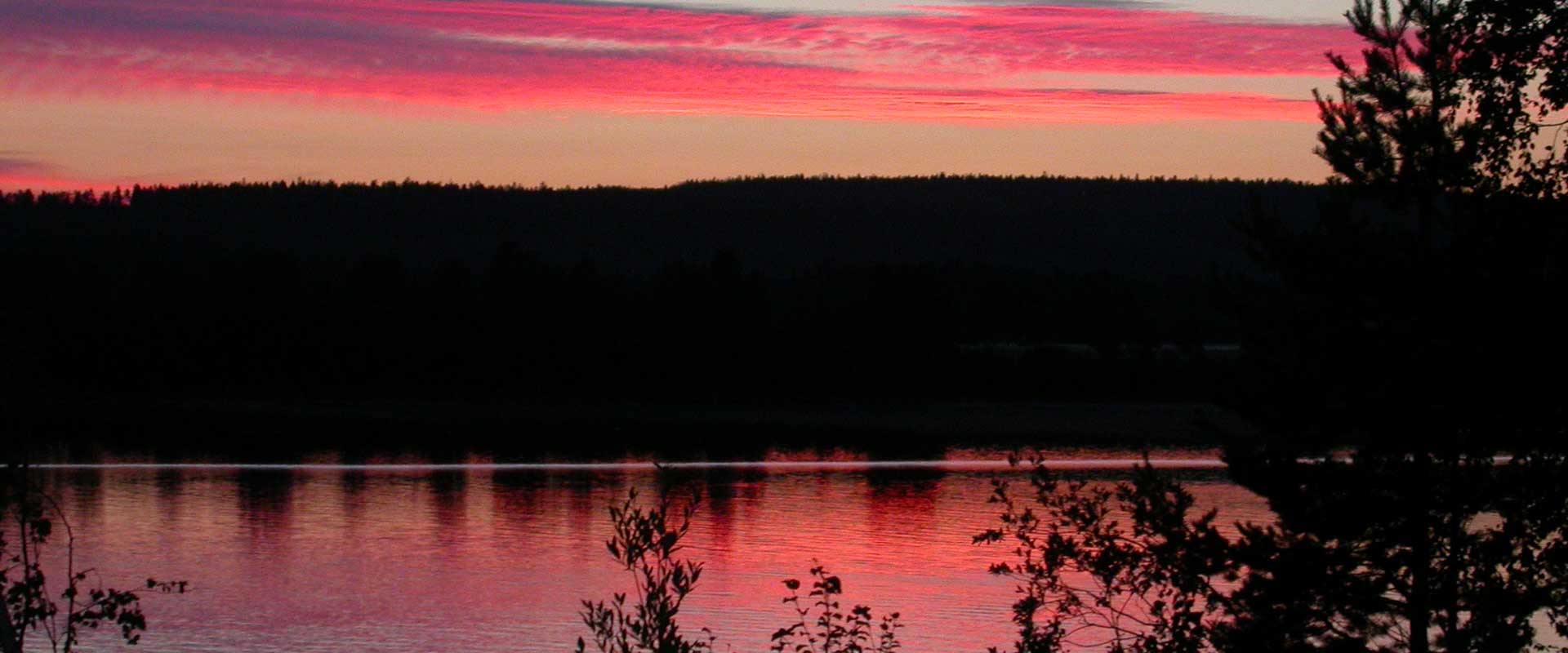 There are fields, open spaces, forests and the tranquil river - unspoilt peace.
In autumn we enjoy the colours and welcome you into the berry forest…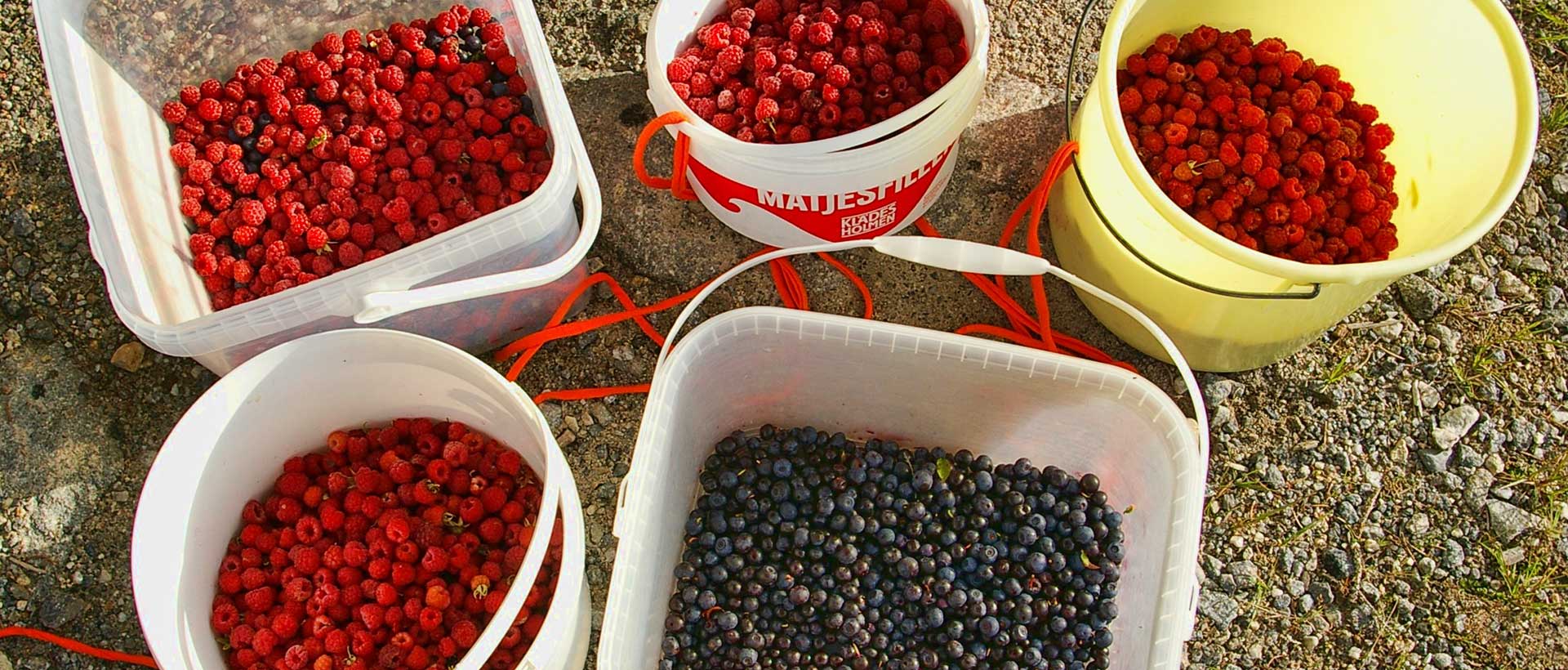 … with possibilities to make your own jam and preserves.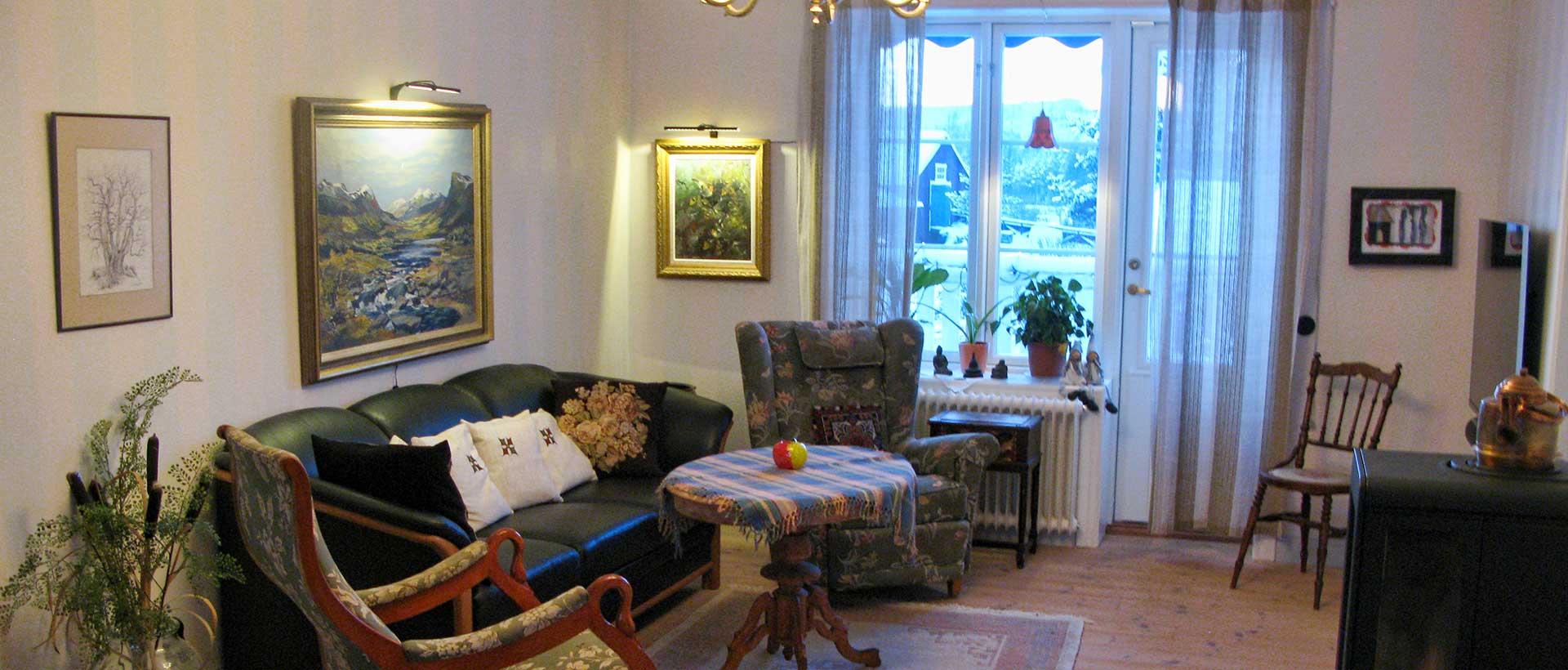 Upstairs there is a large living-room with a view over the village and countryside. Here we also have a widescreen TV, where you can surf the internet or enjoy browsing your photos from the day's excursions.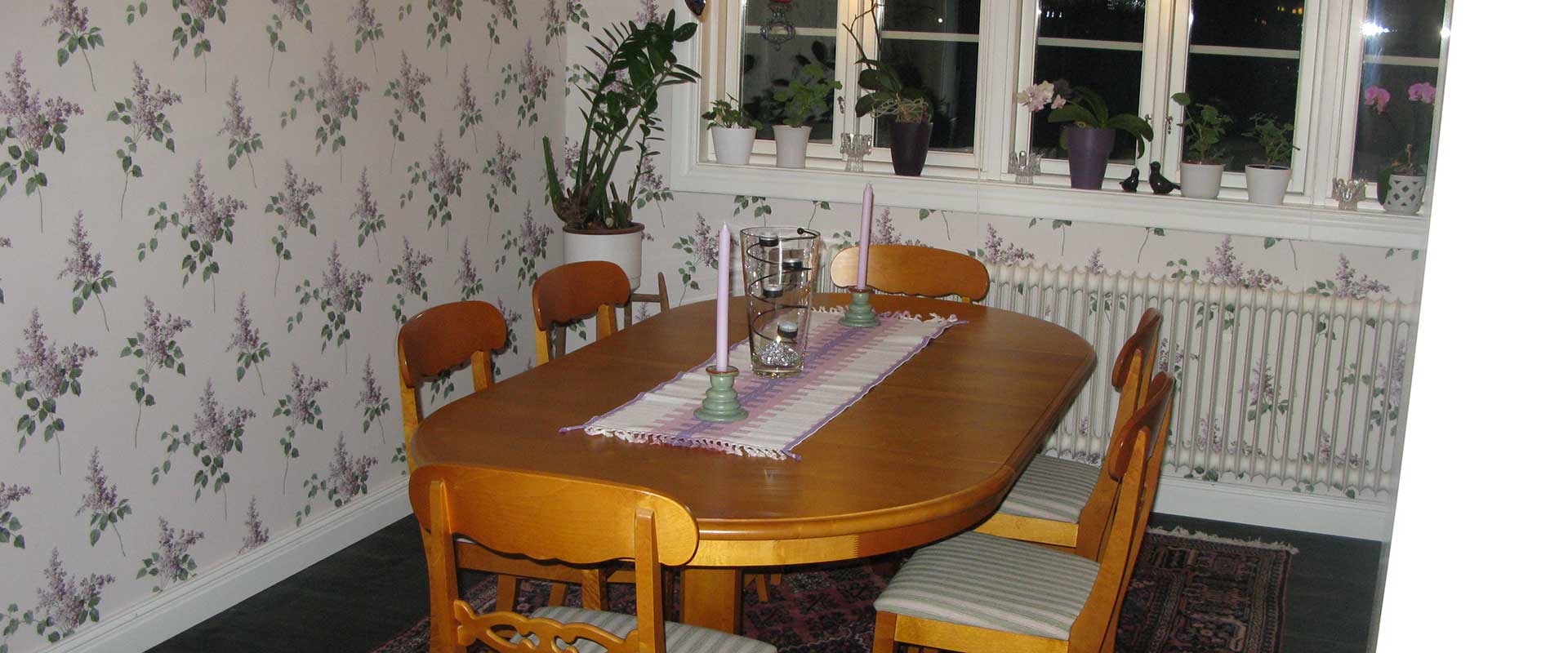 Here you will also find a meeting place for groups of 6-8 persons.
Wallhalla is a place close to the meadows, woods and water located in the village of Vännfors – an old farming community where the young return to previous generations' traditions to enjoy a sense of community. Here nature provides a free bounty of rich resources and wild foods including several varieties of berries and mushrooms. Today Vännfors village is inhabited by more than 200 people and is located close to a main commute to Umeå. Vännfors and environs offers beautiful and diverse nature experiences. We can suggest excursions that can be taken by foot, bike or car.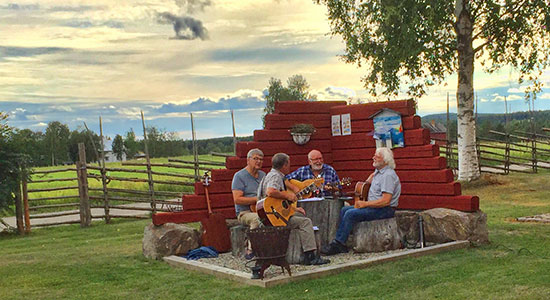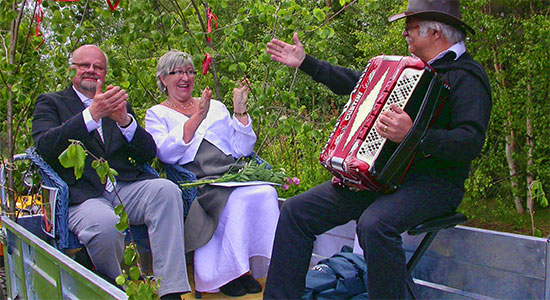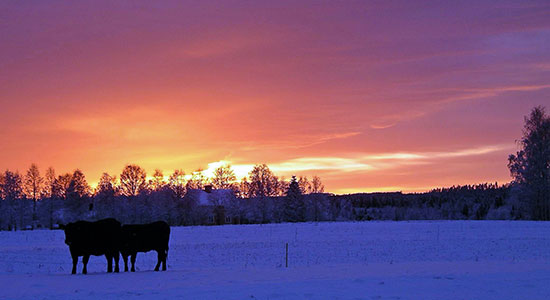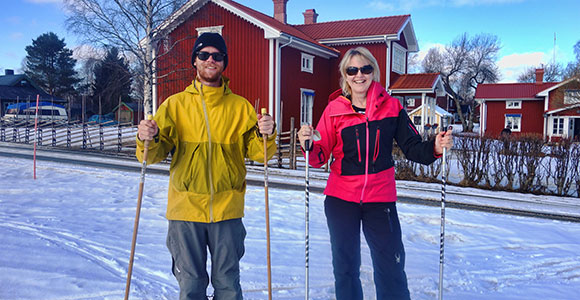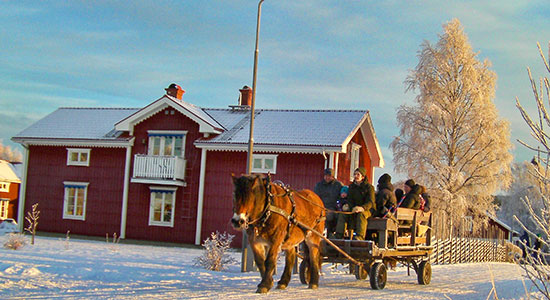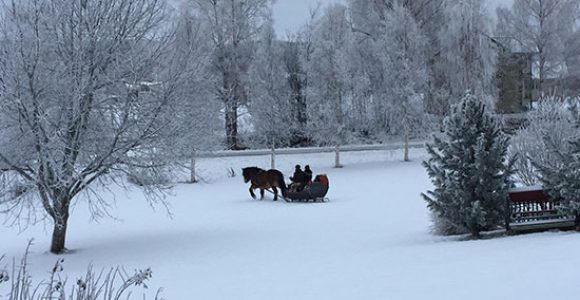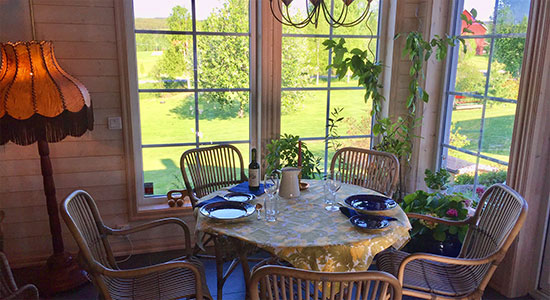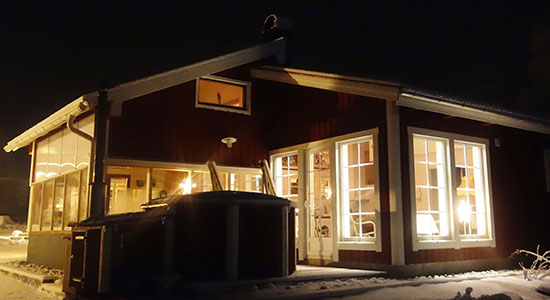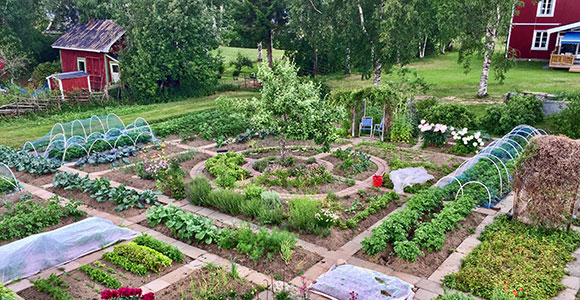 Our Rooms
Wallhalla has three bedrooms, traditionally decorated with high ceilings and with modern, comfortable beds. There are bathrooms on both floors. Our house is smoke- and pet-free. Here we clean with care for the environment, without using chemicals.
Mina – Single room
The single room, "Mina", is called after the mother-in-law of Ing-Marie's mother, Ragnhild. Fredrika Wilhelmina "Mina" Hedberg, b. Häggström, married Karl Hedberg in 1901. They had 12 children. All survived and grew up in the second Västerbotten house, where Ing-Marie and Stig now live. That house was re-located from Mina's home village Storhäggsjö in 1902. During the 1930s, when "Wallhalla" hosted a school class, Mina managed the school for those who would have otherwise had to travel far. Mina wanted to become a teacher herself and she often sat drawing. This may have been why so many of her twelve children became artists.
The room has a 90x200 bed against the timber wall with a small sitting corner and a secretary and two armchairs.
Albertina – Double room
The double room, "Albertina", is called after Mina's mother-in-law Albertina Eriksson b. Johansdotter, who was born in Sörfors and came to Sundsvall in 1869 to work as a maid. There Albertina met the farm boy Erik whom she married in 1871. Erik was the father of Karl Hedberg, Mina's husband. Albertina and Erik returned to Vännfors where they bought the homestead, Gammgår´n, now Wallhalla, in1874 from their uncle Jonas Jonsson. Albertina and Erik had four children, Arvid (1871), Karl (1873), Alma (1875) and Erik (1883).
The room has two separate beds 90x200 cm, a chiffoné with writing area and two chairs with embroidered seats. At the other end of the room is a seating area with an armchair. From the large window there is a grand view of Ing-Marie's pride and joy – her garden.
Ragnhild – Deluxe
The largest room, "Ragnhild", is called after Ing-Marie's mother Ragnhild Hedberg, b.Wållberg. Ragnhild grew up in a Västerbotten farm in Vännfors with her father Jonas and stepmother Hanna. Her mother, Hulda, died in the Spanish flu epidemic in 1918 leaving behind five children aged between three and eleven. Ragnhild married Axel Hedberg in 1933 Together they had four children, Alf (1939), Ing-Marie (1944) and the twins Anna-Greta and Helen (1950). Ragnhild and Axel initially lived on the upper floor of "Wallhalla". In 1957, the family moved to the other house and Wallhalla became their storehouse.
The room has a large double bed 180x210 cm with separate duvets, a sitting corner with two armchairs and in another corner there is an old rocking chair with a pillar table. The room has a free-standing wardrobe with a mirror door. The old floors are adorned with carpets from the end of the 19th century woven by Ing-Marie's grandmother. From the large window there is a splendid view of the village pasture.
This very special summer we will only host one guest company at a time to comply with the recommendation of social distancing. One option is our three rooms in Wallhalla (max 6 people), the other our newly prepared Bed & Relax for 2-4 people. Minimum 2 nights.
Room prices
Prices per room include breakfast
EXTRA BED incl. breakfast
Wallhalla Bed & Relax
This newly built annex to Wallhalla contains a bedroom of 15 square meters for 2-5 people with panoramic views of meadows and forest edge as well as relaxation with kitchen area, toilet, shower and sauna. There is also a dining table, cozy reading corner and fireplace. We are happy to warm up the hot tub for you and your company where you can sit and watch the stars in 39-degree water surrounded by winter darkness or summer night. We have a serving permit for beer, preferably locally produced, and wine. The suite can be rented for at least two days and is suitable for couples or families who want to relax in community and enjoy the surrounding nature.
Prices
Rent of two-day suite SEK 4,000
Breakfast 125: - / person, free for children under 6 years
Rent of wood-fired hot tub 700: -
Rates for longer stays are provided upon request
Party & Meeting place
Wallhalla is a venue where you can hold parties and meetings from May to October for around 50 guests in our decorated converted barn. Here you can also celebrate your wedding or anniversary and spend a night in our "honeymoon suite" decorated just for you and your sweetheart. All year round, we can cater for small groups workshops and meetings comprising up to 15 delegates and 6-8 can sleep over if desired.
We can serve buffet for 30-50 people in our party room…
… and lunch or 2- and 3-course dinners for smaller groups in our kitchen…
… or at one of our out-door patios.
Maybe a cozy moment in our sauna and hot tub area…
… and then some bubble or a beer in the hot tub?
Food & Drinks
Depending on the size and needs of your group, and the time of the year, we offer several different indoor and outdoor settings where you can enjoy food and drink. Our premises are fully licenced.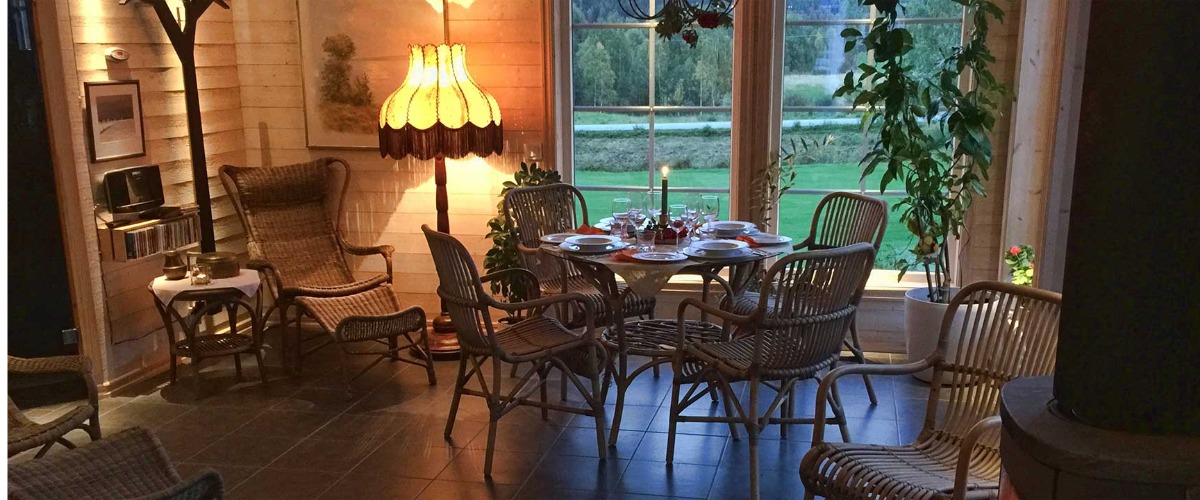 Wallhalla Relax
Hire our relaxation facilities with a sauna and enjoy some time for reading and resting. We will gladly heat the out-door hot tub for you and your friends, 2-8 people, where you can sit in 39-degree C hot water and watch the stars surrounded by a snowy landscape and the darkness of winter - or marvel at the brightness of the summer night.
700 kr AS A START-UP FEE
+ plus 250 kr/person for 3 hrs with sauna and hot tub including towels and robes.
Our Guests
Our guests come from near and far to experience the nature and climate of Västerbotten, the calmness, the fresh air, the seasonal variation. Some of our guests have experienced sightings of the Northern Lights, others cherish a simple excursion into the woods where they are free to pick a bucket full of lingonberries, blueberries or raspberries. Others have come, and incorporated a stay into their working lives (for example traveling salespeople, and forest workers) and some parents have made Wallhalla a base for checking-in on their university student offspring in Umeå. We have often hosted young parents who have been given a "free weekend" by their own parents who are taking care of the little ones. Some of our guests have become friends for life.
Your hosts Ing-Marie & Stig Wall
Ing-Marie previously worked as a councellor at the hospital in Umeå and Stig as a professor in global health at Umeå University. Wallhalla is their joint senior project. "I want to live in the present and be close to nature", says Ing-Marie, and Stig likes to work physically as a contrast to academic work. Ing-Marie's "green fingers" characterize the garden and much of the harvest ends up on the guest's breakfast table. Wallhalla is cleaned the environmentally friendly way without any chemicals. The host couple's careers fit well with the task of caring for the house, garden and guests - Ing-Marie with her social background and Stig with his international work. Many trips to Africa and Asia have made their marks in Wallhalla.
Sustainability
Wallhalla is certified as a "Västerbotten Experience". Sustainability is the focus of all aspects of our activities.
Wallhalla, an award winning BnB located in the picturesque village of Vännfors, is committed to a sustainable lifestyle. The hosts, Ing-Marie and Stig Wall, offer homely accommodation in harmony with Nature. Guests are warmly welcomed into exquisitely restored premises dating from the 19th century – modern and comfortable while retaining historical significance and cultural imprints. Wallhalla has been in Ing-Marie's family for generations. Memories are carefully documented in the book "Gammgårn n blir till Wallhalla" which guests often enjoy reading. Ing-Marie's previous work as a counsellor in cancer care and Stig's leadership in global public health education and research, is carried forward in warm engaging interaction with their guests. Wallhalla is an abode that caters for all needs – creativity, outdoor activities, nature exploration, social interaction, historical discovery, peace and reflection. Wallhalla offers a sustainable lifestyle close to Nature.
Wallhalla & Media
Click on the picture to see it bigger.
Find Us
From Umeå, take the E12 westbound towards Vännäs. After about 24 km, turn right just before the bridge over the Vindel river, and then after 7 km turn left at the sign for "Inibyn". Wallhalla is the first property on your right.
GPS: 63.980108,19.890377